Crossplays
Edit
Background
Edit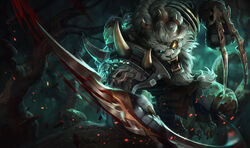 On every wall of his den, the trophy hunter Rengar mounts the heads, horns, claws, and fangs of the most lethal creatures in Valoran. Though his collection is extensive, he remains unsatisfied, tirelessly seeking greater game. He takes time with every kill, studying his prey, learning, and preparing himself for the next encounter with Kha'Zix the one monster he never managed to defeat.[1]
References
Edit
Ad blocker interference detected!
Wikia is a free-to-use site that makes money from advertising. We have a modified experience for viewers using ad blockers

Wikia is not accessible if you've made further modifications. Remove the custom ad blocker rule(s) and the page will load as expected.