Crossplays
Edit
Background
Edit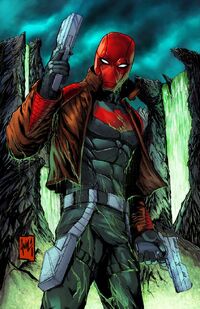 Red Hood is the name of several characters usually associated with the Batman mythos as villains. It was the original alias of the Joker, before the accident that drove him insane. Prior to his transformation he had been committing robberies in this disguise until Batman caught him at the Ace Chemical Processing Plant and accidentally pushed him into a vat of chemicals. Many years later Jason Todd, formerly a Robin who had been killed by the Joker, took the name following his resurrection. He developed it into an anti-hero persona which he used to murder criminals indiscriminately. The actual hood itself is not really a hood, but a high-tech helmet with a computer inside.[1]
References
Edit
Ad blocker interference detected!
Wikia is a free-to-use site that makes money from advertising. We have a modified experience for viewers using ad blockers

Wikia is not accessible if you've made further modifications. Remove the custom ad blocker rule(s) and the page will load as expected.