Cosplays
Edit
Background
Edit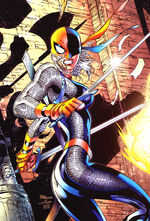 Ravager is a legacy name of super-villains and anti-heroes, usually associated with Slade Wilson alias Deathstroke the Terminator. It was originally the alter-ego of his son Grant Wilson while working as a mercenary for H.I.V.E. assigned to kill the Teen Titans until his death. Bill Walsh, a terrorist responsible for slitting Jericho's throat as a child, later used the identity to attack Deathstroke by taking advantage of his vulnerability. Slade's half-brother Wade LaFarge also used the identity to target him, although he was later killed for this. Rose Wilson, anti-hero and daughter of Slade, later begins using the name as a member of the Teen Titans.[1]
References
Edit
Ad blocker interference detected!
Wikia is a free-to-use site that makes money from advertising. We have a modified experience for viewers using ad blockers

Wikia is not accessible if you've made further modifications. Remove the custom ad blocker rule(s) and the page will load as expected.