Cosplays
Edit
Background
Edit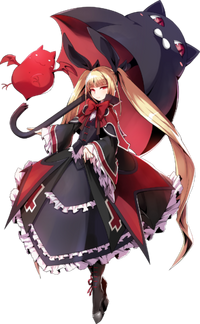 Rachel Alucard is a young vampire girl with pale skin, long blond hair tied into two pigtails with black ribbons, and red eyes. She wears Gothic Lolita fashion with a frilly black gown and jacket, red ribbon bow tie, a red bat symbol design cross from the front to the back on her dress, another red cross on her shawl and bottom half, black pony heel boots with a red cross, and a red ribbon on her right ankle. Physically, Rachel is said to look around 12 years old, however, she gives off an aura of someone far older than what she looks.[1]
References
Edit
Ad blocker interference detected!
Wikia is a free-to-use site that makes money from advertising. We have a modified experience for viewers using ad blockers

Wikia is not accessible if you've made further modifications. Remove the custom ad blocker rule(s) and the page will load as expected.