Cosplays
Edit
Background
Edit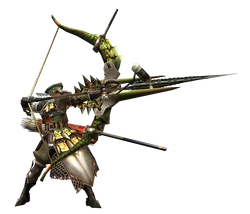 The Queen Blaster is an upgradeable bow from the Monster Hunter series of games. Known for its scatter shot ability, it can be upgraded five time. Boasting reasonable attack and the poison effect, it is great against monsters weak to poison like Kushala Daora.
Also pictured is the Gunner type armor that is part of the Rathian Equipment set.
External links
Edit
Ad blocker interference detected!
Wikia is a free-to-use site that makes money from advertising. We have a modified experience for viewers using ad blockers

Wikia is not accessible if you've made further modifications. Remove the custom ad blocker rule(s) and the page will load as expected.