Background
Edit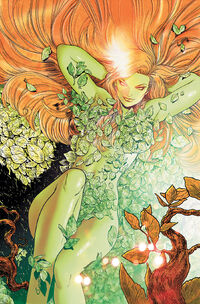 Poison Ivy is a super-villain and eco-terrorist with the ability to control plants, usually an antagonist to Batman. Originally she was botanist Pamela Isley working underneath professor Jason Woodrue until an accident gave her powers and turned her insane. Protecting the sanctity and supremacy of nature at all costs, she sadistically lashes out against humanity as a blight upon the planet.
Frequently she teams up with her best friend and partner in crime, Harley Quinn. Although much of her life has been spent imprisoned in Arkham Asylum for the criminally insane, she has also held down a S.T.A.R. Labs position. She has been a member of the Gotham City Sirens, the Injustice League, Injustice Gang, the Secret Society of Super-Villains and the Suicide Squad.[1]
References
Edit
External links
Edit
Ad blocker interference detected!
Wikia is a free-to-use site that makes money from advertising. We have a modified experience for viewers using ad blockers

Wikia is not accessible if you've made further modifications. Remove the custom ad blocker rule(s) and the page will load as expected.