Cosplays
Edit
Background
Edit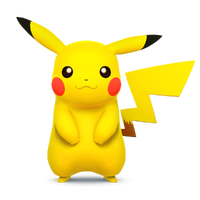 Pikachu is a small, chubby, and incredibly cute mouse-like Pokémon which is covered almost completely by yellow fur. It has long yellow ears that are tipped with black. A Pikachu's back has two brown stripes, and its large tail is notable for being shaped like a lightning bolt. On its cheeks are two circle-shaped red pouches used for storing electricity. They turn yellow and spark with electricity when its about to use an Electric attack such as Thunderbolt. It has also been known to generate small surges of electrical energy in anger or for protection.[1]
References
Edit
Ad blocker interference detected!
Wikia is a free-to-use site that makes money from advertising. We have a modified experience for viewers using ad blockers

Wikia is not accessible if you've made further modifications. Remove the custom ad blocker rule(s) and the page will load as expected.