Cosplays
Edit
Background
Edit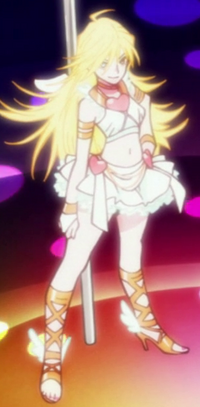 Panty is a female angel with spiky, blonde hair, sky blue eyes, and a beige skin-tone. When casual, her eyelashes are long with a light pink eye shadow and her nails and toenails are polished a bright red color. Her most often worn outfit is a short sleeveless red dress with matching heels, red hoop earrings, a golden necklace, and two golden bracelets on each wrist. However, she is known to wear a large variety of fashionable clothing, in a range of styles.
In angel form, Panty possesses small white feathered wings. Panty's angelic outfit seems to be inspired on ancient Greek clothing, most notably her golden winged Hermes-like heels. The rest of the outfit consists of a puffy white skirt, with two clip-like pink hearts on both hips, a short white blouse, a golden collar with pink heart in center, golden bracelets, white glove coverings on the backs of her hands and several golden rings. Both her nails and toenails are polished a light pink color and she wears light blue eye shadow.[1]
References
Edit
Ad blocker interference detected!
Wikia is a free-to-use site that makes money from advertising. We have a modified experience for viewers using ad blockers

Wikia is not accessible if you've made further modifications. Remove the custom ad blocker rule(s) and the page will load as expected.