Cosplays
Edit
Background
Edit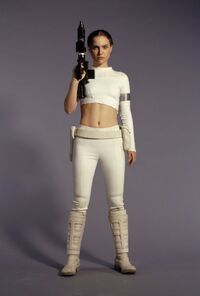 Padmé Amidala Naberrie, commonly known as Padmé Amidala, was a human female politician who became a leading voice for peace and diplomacy during the last days of the Galactic Republic. She rose to galactic prominence when the Trade Federation invaded and occupied her homeworld of Naboo, went on to serve as a leading member of the Galactic Senate during the Clone Wars, and became the mother of the legendary Princess and General Leia Organa and Jedi Master Luke Skywalker.[1]
References
Edit
Ad blocker interference detected!
Wikia is a free-to-use site that makes money from advertising. We have a modified experience for viewers using ad blockers

Wikia is not accessible if you've made further modifications. Remove the custom ad blocker rule(s) and the page will load as expected.