Cosplays
Edit
Background
Edit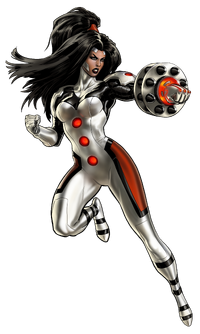 Karima Shapandar was once a police officer from India who was transformed into an Omega Sentinel by Bastion of the Operation: Zero Tolerance program. It all started when Karima was dispatched to look after Neal Shaara. A bond quickly developed between the two, and they were on the verge of beginning a romantic relationship when they were attacked and captured by Bastion. Neal learned that Sanjit, his brother, had become a Prime Sentinel, programmed to seek out and destroy mutants. Bastion intended to do the same to Neal and Karima, but the morphing process catalyzed Neal's latent mutant power, which destroyed the building around him. Sanjit fought his programming long enough to disable the other Sentinels, but died in the process. Karima, meanwhile, discovered that she was also an Omega Sentinel and forced Neal to flee before she could kill him.[1]
References
Edit
Ad blocker interference detected!
Wikia is a free-to-use site that makes money from advertising. We have a modified experience for viewers using ad blockers

Wikia is not accessible if you've made further modifications. Remove the custom ad blocker rule(s) and the page will load as expected.