Crossplays
Edit
Background
Edit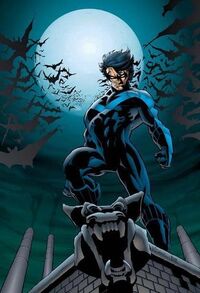 Nightwing is a superhero legacy name associated with the planet Krypton and the Batman Family. Originally it was an alias used by a mysterious Kryptonian figure, and later adopted by Superman and Van-Zee in the bottle city of Kandor.
Later the name was adopted by the human vigilante Dick Grayson, taking it after he had graduated from the position of Batman's sidekick Robin. Dick Grayson was the son of John and Mary Grayson. The family was a circus act that performed at Haly's Circus. One night Dick saw his parents murdered by a mafia boss who wanted revenge on the circus's owner, Haly; coincidentally Bruce Wayne, (a.k.a. Batman) witnesses the terrifying act and offers to take the young orphan by his side, remembering that he was once like Dick in his current state.
Dick had keen detective skills already and soon figured out that the billionaire playboy Bruce Wayne was the Dark Knight himself. Bruce agreed to take Dick under his wing as the first Robin out of many. Many years passed and Dick became too old to stay under Batman's care and soon took a superhero name of his own, Nightwing.[1]
References
Edit