Cosplays
Edit
Background
Edit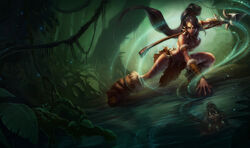 This character is from League of Legends.
There are few dwellers, let alone champions, residing in the blasted and dangerous lands that lie south of the Great Barrier. Much of that world still bears the scars of past Rune Wars, especially the mysterious Kumungu Jungle. There are long-forgotten treasures in these strange places which many risk life and limb to acquire. The champion known as Nidalee was only a young girl traveling with her treasure-seeking parents when they lost their way in the dense, rainy jungles. The jungle was unforgiving, and she watched her parents suffer agonizing final days as they fell victim to a mysterious and vicious disease. As improbable as it was for a child to survive in the inhospitable jungle by herself, she did just that.[1]
References
Edit
Ad blocker interference detected!
Wikia is a free-to-use site that makes money from advertising. We have a modified experience for viewers using ad blockers

Wikia is not accessible if you've made further modifications. Remove the custom ad blocker rule(s) and the page will load as expected.