Cosplays
Edit
Background
Edit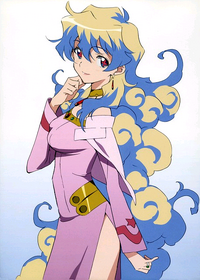 This character is from the Tengen Toppa Gurren Lagann series.
Nia Teppelin is the disowned daughter of Lordgenome. She is also an artificial being made by the Anti-Spiral and serves as the main antagonists' messenger in the third act. She is Simon's main love interest and eventually marries him in the final episode before she fades away.
From her first appearance and for most of the first arc, Nia wears a pink outfit with a skirt and a gold neckpiece with a red tie hanging from it. When the team arrive at the beach, she wears a white swimsuit. After the timeskip she wears a long, flowing pink dress. When she changes to her Anti-Spiral persona, she wears a skintight bodysuit with Anti-Spiral markings on it. She continues to wear this until the end of the final episode. When she returns to Earth she is briefly seen in a pink outfit simialar to her normal one but without sleeves. During the wedding, she wears a white wedding dress with a thin veil prepared by Old Coco.[1]
References
Edit
Ad blocker interference detected!
Wikia is a free-to-use site that makes money from advertising. We have a modified experience for viewers using ad blockers

Wikia is not accessible if you've made further modifications. Remove the custom ad blocker rule(s) and the page will load as expected.