Cosplays
Edit
Background
Edit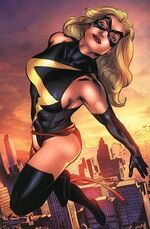 Carol Danvers grew up as the oldest child of three in a traditional Boston home, with a contractor father who believed in the merits of hard work. When he built their Cape Cod summer home, Carol insisted on working as hard as her two younger brothers, trying to make equal in her father's eyes. A voracious reader, she dreamed of becoming an astronaut and traveling to distant planets; as a teen she even hitchhiked to Cape Canaveral to view a launch there.
She was kidnapped by the alien robotic intelligence Cyberex and then hospitalized by a controlled Iron Man. The alien Yon-Rogg then kidnapped her while she was still concussed and eventually battled Mar-Vell. During this battle, Carol was knocked into a damaged Kree Psyche-Magnitron, a powerful device which could turn imagination into reality. Carol's genetic structure was altered effectively making her a half-Kree superhuman. She was unaware of this change for months, but later adopted the persona of Ms. Marvel, working with teams such as The Avengers and X-Men.[1]
References
Edit
Ad blocker interference detected!
Wikia is a free-to-use site that makes money from advertising. We have a modified experience for viewers using ad blockers

Wikia is not accessible if you've made further modifications. Remove the custom ad blocker rule(s) and the page will load as expected.