Cosplays
Edit
Background
Edit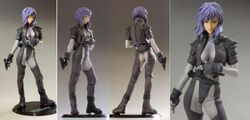 Major Motoko Kusanagi is the main protagonist in Masamune Shirow's Ghost in the Shell anime and manga series. She is a cyborg employed as the squad leader of Public Security Section 9, a fictional division of the real Japanese National Public Safety Commission.
She is a very effective leader and is able to use her wits and cybernetic body in bringing criminals to justice. Since she has a full cybernetic body, she is not certain her ghost, or her soul, retains any humanity. In fact, she speculates on the possibility that she's entirely synthetic, with artificially generated memories designed to fool her into thinking she were once human.[1]
References
Edit
Ad blocker interference detected!
Wikia is a free-to-use site that makes money from advertising. We have a modified experience for viewers using ad blockers

Wikia is not accessible if you've made further modifications. Remove the custom ad blocker rule(s) and the page will load as expected.