Cosplay reference kit
Edit
Default skin in Heroes of the Storm (Kharazim)
Background
Edit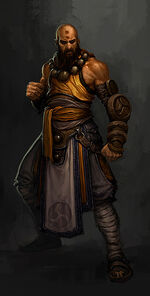 Monks are sacred warriors who channel divine power through sheer force of will. Healing waves, mantras of protection and attacks empowered with holy might are all within their purview.
Skilled monks deliver rapid-fire attacks unarmed or with a variety of well-balanced weapons. In combat, they emphasize high maneuverability over staying power, darting in and out of melees and avoiding protracted slugfests.
Ad blocker interference detected!
Wikia is a free-to-use site that makes money from advertising. We have a modified experience for viewers using ad blockers

Wikia is not accessible if you've made further modifications. Remove the custom ad blocker rule(s) and the page will load as expected.