Cosplays
Edit
Background
Edit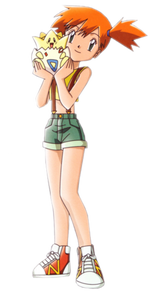 Misty is a character whose first appearance was in the very first episode of the anime series, Pokémon - I Choose You!. In this episode, she first meets Ash after fishing him out of the water when he was trying to get away from a flock of Spearow. Ash then takes Misty's bike from her in order to escape the Spearow, which is then wrecked by Pikachu's Thunder Shock. Misty then tracks down Ash and follows him around on his adventures until he can pay her back, although she eventually forgets about the bike and becomes one of Ash's closest friends in the process.
Misty has orange hair tied in a ponytail, wears red suspenders, a yellow tank top, blue denim shorts and red and yellow sneakers.
Her new outfit consists of a yellow sleeveless vest with a blue button, red swimsuit, yellow shorts and orange shoes.[1]
References
Edit
Ad blocker interference detected!
Wikia is a free-to-use site that makes money from advertising. We have a modified experience for viewers using ad blockers

Wikia is not accessible if you've made further modifications. Remove the custom ad blocker rule(s) and the page will load as expected.