Cosplays
Edit
Background
Edit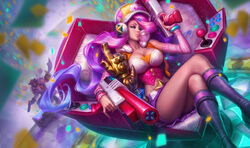 Miss Fortune has a strong distrust for pirates and she finds herself constantly bickering with the infamous Gangplank (the only captain to resist her charms) over the direction of Bilgewater politics. Her two goals: to unite the people of Bilgewater, making them into a strong and independent society, and to find the pirate who killed her mother. To that end, she has entered the League of Legends as a champion, trading her skills for the wealth and influence that will help her accomplish both.[1]
References
Edit
Ad blocker interference detected!
Wikia is a free-to-use site that makes money from advertising. We have a modified experience for viewers using ad blockers

Wikia is not accessible if you've made further modifications. Remove the custom ad blocker rule(s) and the page will load as expected.