Cosplays
Edit
Background
Edit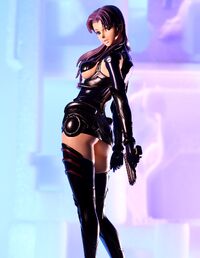 Misato Katsuragi is one of the main characters from the Neon Genesis Evangelion franchise. She is the operations director at NERV, initially with the rank of captain; she is later promoted to major. In Rebuild of Evangelion, Misato's initial rank is lieutenant colonel. Her duties at NERV include acting as a field commander for the Eva pilots, issuing orders and relaying battle strategies as well as processing input from Ritsuko Akagi and the technicians monitoring the Evas. She also handles many bureaucratic aspects of NERV's operations.[1]
References
Edit
Ad blocker interference detected!
Wikia is a free-to-use site that makes money from advertising. We have a modified experience for viewers using ad blockers

Wikia is not accessible if you've made further modifications. Remove the custom ad blocker rule(s) and the page will load as expected.