Cosplays
Edit
Background
Edit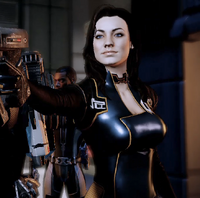 This character is from the Mass Effect video game.
Miranda Lawson is a human Cerberus Officer. As Jacob Taylor's informant, she gives him guidance and advice during missions, often via hologram. Miranda is very well traveled and has many contacts, extending from Citadel space and the Terminus Systems, to as far as the hostile Nemean Abyss. Her vast network of contacts may be explained by the fact Miranda is a known Cerberus operative, one who still has friends — or at least friends of friends — in the Alliance military.
Miranda is a potential romantic interest for a male Commander Shepard.[1]
References
Edit
Ad blocker interference detected!
Wikia is a free-to-use site that makes money from advertising. We have a modified experience for viewers using ad blockers

Wikia is not accessible if you've made further modifications. Remove the custom ad blocker rule(s) and the page will load as expected.