Cosplays
Edit
Background
Edit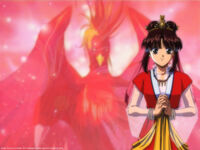 Miaka Yuki is the main character of Fushigi Yuugi, and the Priestess of Suzaku. Along with her friend Yui Hongo, she is one of the last priestesses to go inside the book.
Miaka almost always wears her school uniform. Her uniform consists of a white blouse; brown jacket; and, matching skirt; as well as a light-blue ribbon which shares the same color as her best friend, Yui's. However, she also often wears culturally Chinese outfits from The Universe Of The Four Gods while she is within the book.
When summoning Suzaku, Miaka's hair is adorned with a headdress. She wears a red robe, with a veil underneath; and, lipstick.[1]
References
Edit
Ad blocker interference detected!
Wikia is a free-to-use site that makes money from advertising. We have a modified experience for viewers using ad blockers

Wikia is not accessible if you've made further modifications. Remove the custom ad blocker rule(s) and the page will load as expected.