Cosplays
Edit
Background
Edit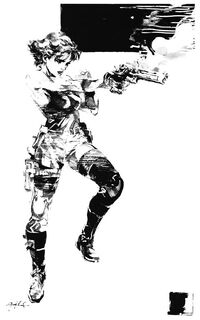 Meryl Silverburgh was the commanding officer of Rat Patrol Team 01 of the CID. Prior to her inauguration as commander, Meryl was a well-known career soldier due to her involvement in the Shadow Moses Incident, where she worked alongside legendary mercenary Solid Snake. It was initially thought that she was the niece of former FOXHOUND commander Roy Campbell. However, it was later discovered that Meryl was actually his biological daughter.[1]
References
Edit
Ad blocker interference detected!
Wikia is a free-to-use site that makes money from advertising. We have a modified experience for viewers using ad blockers

Wikia is not accessible if you've made further modifications. Remove the custom ad blocker rule(s) and the page will load as expected.