Cosplays
Edit
Background
Edit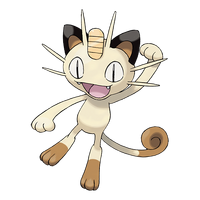 Meowth has two white whiskers on each side of its oval-shaped face and two hairs sticking up on either side of the coin-like gem on its forehead, and highly resembles a cat. Meowth's tail and feet are cream-colored like the rest of it, but they are brown at the end. It has small paw pads on the undersides of its heels and toes. It is much like a Maneki Neko, a toy of Japanese descent known for bobbing its arm and hand up and down.[1]
References
Edit
Ad blocker interference detected!
Wikia is a free-to-use site that makes money from advertising. We have a modified experience for viewers using ad blockers

Wikia is not accessible if you've made further modifications. Remove the custom ad blocker rule(s) and the page will load as expected.