Cosplays
Edit
Background
Edit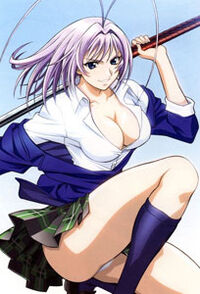 Maya Natsume is a beautiful girl who has long silver hair (purple in the anime). She is the older sister of Aya Natsume, and the younger sister of Shin Natsume. She is the captain of the Juken club, and an upper level martial artist. She has a long-standing relationship with Mitsuomi Takayanagi and may still be in love with him despite their bloody and violent history. Souichiro Nagi is in love with her, but her actual feelings towards him are unclear; she does take a very active interest in his continuing development.[1]
References
Edit
Ad blocker interference detected!
Wikia is a free-to-use site that makes money from advertising. We have a modified experience for viewers using ad blockers

Wikia is not accessible if you've made further modifications. Remove the custom ad blocker rule(s) and the page will load as expected.