Cosplays
Edit
Background
Edit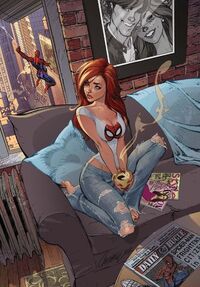 Mary Jane Watson was born to Philip and Madeline Watson. MJ is the second of two children with her elder sister Gayle having been born four years earlier. Due to her family's constant moving (as a result of her father's various teaching jobs) MJ began developing a more extroverted and care-free personality, a trait which helped her make friends as the Watson's moved from one location to the next.
Peter Parker and Mary Jane got married on the front steps of New York City's City Hall, with her uncle, Spencer Watson, a judge, presiding over the ceremony. They spent their honeymoon in France and made their home in a condominium apartment that Mary Jane was able to afford thanks to her highly successful modeling career. As the wife of Spider-Man, however, things were hardly ever easy.[1]
References
Edit
Ad blocker interference detected!
Wikia is a free-to-use site that makes money from advertising. We have a modified experience for viewers using ad blockers

Wikia is not accessible if you've made further modifications. Remove the custom ad blocker rule(s) and the page will load as expected.