Cosplays
Edit
Background
Edit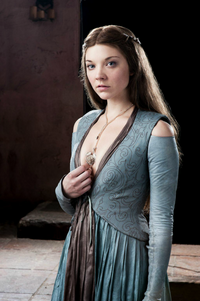 Queen Margaery Tyrell is a major character in the second, third, fourth, fifth, and sixth seasons of HBO's Game of Thrones (based on the book series by George R. R. Martin). Margaery is the widow of King Renly Baratheon, a claimant to the Iron Throne in the War of the Five Kings. Her father Lord Mace Tyrell is the ruler of the Reach. She is betrothed to King Joffrey Baratheon after the Battle of Blackwater, and briefly becomes his queen, but this is cut short when Joffrey is fatally poisoned at their wedding feast. She subsequently was betrothed to Joffrey's younger brother and successor, Tommen Baratheon. Margaery is known for her beauty, political cunning, and ambition, although she has a compassionate side. Due to Cersei Lannister's machinations, Margaery has recently been arrested by the Faith Militant for perjury on her brother Loras's behalf, and the two are to stand trial.[1]
References
Edit
Ad blocker interference detected!
Wikia is a free-to-use site that makes money from advertising. We have a modified experience for viewers using ad blockers

Wikia is not accessible if you've made further modifications. Remove the custom ad blocker rule(s) and the page will load as expected.