Crossplays
Edit
Background
Edit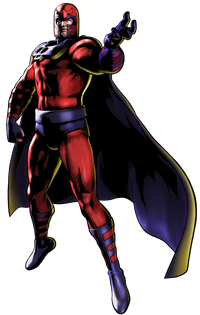 Magneto is a fictional supervillain appearing in comic books published by Marvel Comics, most commonly in association with the X-Men. He has been the primary villain in the X-Men comics, although, he has been an occasional ally and even a member of the X-Men at times. Created by writer Stan Lee and artist Jack Kirby, the character first appears in The X-Men #1 (September 1963).
A powerful mutant with the ability to generate and control magnetic fields, Magneto desired mutants to eventually dominate the human race as he viewed humans as an outdated species that no longer deserves its continual domination over the world. Writers have since fleshed out his character and origin, revealing him to be a Holocaust survivor whose actions are driven by the purpose of protecting the mutant race from suffering a similar fate. His role in comics has varied from supervillain to antihero to superhero. He was once a friend of Professor X, leader of the X-Men, and but their different philosophies caused a rift in their friendship.[1]
References
Edit
Ad blocker interference detected!
Wikia is a free-to-use site that makes money from advertising. We have a modified experience for viewers using ad blockers

Wikia is not accessible if you've made further modifications. Remove the custom ad blocker rule(s) and the page will load as expected.