Cosplays
Edit
Background
Edit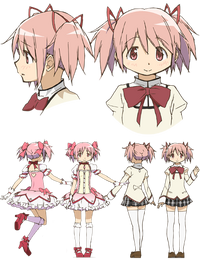 Madoka Kaname, is the protagonist and title character of the first Puella Magi series, Puella Magi Madoka Magica. She is a shy and kind girl who cares deeply for friends, but has low self-confidence. After becoming a magical girl, she gains higher confidence.
Madoka wears a poofy pink dress with ribbons arranged at the neck, waist, and on the shoes. The middle of her torso is pale yellow with a white stripe and red buttons. On the back right under the white ruffles (at the hem of the dress) is a heart shaped hole. For the waist is a flower-like pattern that is a pink-white fade. At the edge of this are three diamond shapes and a red border. Under it is a white skirt accompanied by a petticoat of the same color.[1]
References
Edit
Ad blocker interference detected!
Wikia is a free-to-use site that makes money from advertising. We have a modified experience for viewers using ad blockers

Wikia is not accessible if you've made further modifications. Remove the custom ad blocker rule(s) and the page will load as expected.