Cosplay reference kit
Edit
Baleog
Erik
Olaf
Background
Edit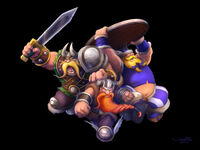 The Lost Vikings are the titular protagonists of The Lost Vikings franchise, bearing the names of Baleog the Fierce, Erik the Swift, and Olaf the Stout.
In The Lost Vikings, players must employ the skills of 3 unique Viking characters cooperatively to solve puzzles, conquer enemies, and navigate their treacherous voyage back home. The trio are heroes in Heroes of the Storm.
Ad blocker interference detected!
Wikia is a free-to-use site that makes money from advertising. We have a modified experience for viewers using ad blockers

Wikia is not accessible if you've made further modifications. Remove the custom ad blocker rule(s) and the page will load as expected.