Cosplays
Edit
Background
Edit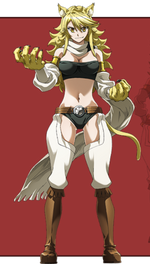 This character is from the Akame ga Kill! series.
Leone is one of the older members of the assassination group, Night Raid. She excels at gathering information and exercising calm judgment when necessary. Leone is often the one who's seen confirming the validity of the targets in which Night Raid is assigned to assassinate.
Leone is a young woman with short blonde hair with two long bangs that frame the sides of her head and golden eyes. She wears a revealing outfit with a black tube top, pants, boots and a scarf around her neck. When she transforms, her hair becomes longer and she gains lion ears, tail, and claws.[1]
References
Edit
Ad blocker interference detected!
Wikia is a free-to-use site that makes money from advertising. We have a modified experience for viewers using ad blockers

Wikia is not accessible if you've made further modifications. Remove the custom ad blocker rule(s) and the page will load as expected.