Cosplays
Edit
Background
Edit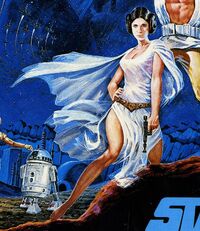 This character is from the Star Wars franchise.
Leia Organa Solo (born Leia Amidala Skywalker) was, at various stages of her life, a politician, revolutionary, and Jedi Knight of the New Jedi Order. The daughter of Jedi Knight Anakin Skywalker and Senator Padmé Amidala of Naboo, Leia was the younger twin sister of Luke Skywalker, and, shortly after her birth, she became the adopted daughter of Bail Organa and Queen Breha of Alderaan, making her a Princess of Alderaan. An accomplished Senator, Leia Organa was most famous for her strong leadership during the Galactic Civil War and other subsequent galactic conflicts, making her one of the galaxy's greatest heroes. Later she married Han Solo, and became the mother of their three children: Jaina, Jacen, and Anakin Solo.[1]
References
Edit
Ad blocker interference detected!
Wikia is a free-to-use site that makes money from advertising. We have a modified experience for viewers using ad blockers

Wikia is not accessible if you've made further modifications. Remove the custom ad blocker rule(s) and the page will load as expected.