Cosplays
Edit
Background
Edit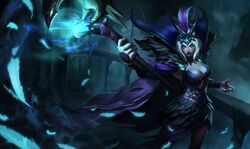 This character is from League of Legends.
Amongst the cults, covens, and secret societies that call this labyrinth their home, LeBlanc, the Deceiver, presides over the Black Rose, a remnant from a lost, yet similarly unscrupulous time in Noxian history. Ruthless and seemingly ageless, LeBlanc and her ilk were a mainstay in Noxian political affairs during the era before the militarization of the Noxian government.[1]
References
Edit
Ad blocker interference detected!
Wikia is a free-to-use site that makes money from advertising. We have a modified experience for viewers using ad blockers

Wikia is not accessible if you've made further modifications. Remove the custom ad blocker rule(s) and the page will load as expected.