Background
Edit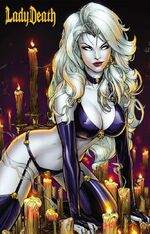 Lady Death originated as the sexy and violent villain that was perceived as a hallucination by the boy Ernest Fairchild. She promised to "love Ernie forever", love he never had, in exchange for his loyalty. That loyalty was to kill everyone on Earth.[1]
Her origin changed with the changing of her publishers, but some elements remain almost identical. Born in medieval times to an inwardly corrupt father and holy mother, she struck a bargain with a demon or devils to escape certain death at the hands of her possessed father (or angry peasants, in another version). All she had to do was give up her humanity and serve the forces of Hell/Labyrinth.
References
Edit
Ad blocker interference detected!
Wikia is a free-to-use site that makes money from advertising. We have a modified experience for viewers using ad blockers

Wikia is not accessible if you've made further modifications. Remove the custom ad blocker rule(s) and the page will load as expected.