Cosplays
Edit
Background
Edit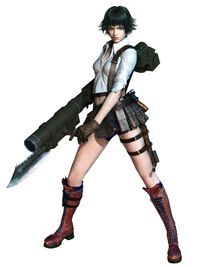 Lady is a human Devil Hunter who first appeared in Devil May Cry 3: Dante's Awakening as both a supporting character and boss. She is the daughter of Arkham and sought to hunt him down, encountering Dante in the process. After the events, she joins Devil May Cry. While her nickname "Lady" was given to her by Dante, her real name is Mary.
Lady has dark, chin-length hair on both sides of her face and she has a fringe that reaches her eyebrows. She has many scars across her body, the most prominent being the one across her nose. She also always has a necklace with a red gem on it.Like her father, she has the genetic condition heterochromia, which render each of her eyes a different color, as a result her left eye is red and her right eye is bluish-green.[1]
References
Edit
Ad blocker interference detected!
Wikia is a free-to-use site that makes money from advertising. We have a modified experience for viewers using ad blockers

Wikia is not accessible if you've made further modifications. Remove the custom ad blocker rule(s) and the page will load as expected.