Cosplays
Edit
Background
Edit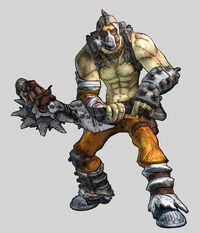 This character is from Borderlands.
Whatever Krieg went through to make him the blood-drinking, meat-loving killer that he is, it is noted he wasn't always like this. Krieg's psyche has a remnant of who he used to be--a literal inner voice which forces Krieg to only kill the deserving, and help others. The voice often remarks that he remembers helping people, getting paid with loot, and other Vault-hunter-esque pursuits. It's also informed Krieg that should Krieg ever kill an innocent person, the inner voice will take over and commit suicide to kill them both as punishment.
In his graphic backstory, Krieg is shown wandering the wastelands of Pandora, wielding only his buzz axe, killing bandits and many other hostiles along the way. The inner voice seemed to have far less influence on his actions in those days, barely able to keep his blood lusting vessel from targeting hostiles over non-combatants.[1]
References
Edit
Ad blocker interference detected!
Wikia is a free-to-use site that makes money from advertising. We have a modified experience for viewers using ad blockers

Wikia is not accessible if you've made further modifications. Remove the custom ad blocker rule(s) and the page will load as expected.