Cosplays
Edit
Background
Edit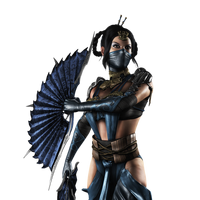 This character is from the Mortal Kombat franchise.
Princess Kitana is 10,000 years old, but is considered young in her realm of Edenia and has the appearance of a young woman. Throughout the years, she rose to great importance; first as the loyal stepdaughter of Shao Kahn, then as his enemy, tearing herself away from his grasp and freeing her home realm of Edenia. She also led an army into Outworld to combat any chance of Shao Kahn rising to power again.
She shared a subtle love interest with Mortal Kombat champion Liu Kang, even after he was murdered by the Deadly Alliance. Though she was loyal to Shao Kahn for most of her life, she aligned herself with the side of good upon learning the truth about her past and her true father.[1]
References
Edit
Ad blocker interference detected!
Wikia is a free-to-use site that makes money from advertising. We have a modified experience for viewers using ad blockers

Wikia is not accessible if you've made further modifications. Remove the custom ad blocker rule(s) and the page will load as expected.