Cosplays
Edit
Background
Edit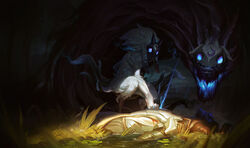 This character is from League of Legends.
Separate, but never parted, Kindred represents the twin essences of death. Lamb's bow offers a swift release from the mortal realm for those who accept their fate. Wolf hunts down those who run from their end, delivering violent finality within his crushing jaws. Though interpretations of Kindred's nature vary across Runeterra, every mortal must choose the true face of their death.[1]
References
Edit
Ad blocker interference detected!
Wikia is a free-to-use site that makes money from advertising. We have a modified experience for viewers using ad blockers

Wikia is not accessible if you've made further modifications. Remove the custom ad blocker rule(s) and the page will load as expected.