Cosplays
Edit
Background
Edit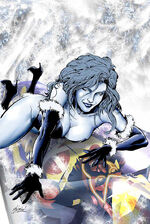 Killer Frost is a legacy super-villain name with ice powers, usually an enemy to Firestorm. Originally Crystal Frost used the name, a Hudson University student who angrily hated men. Her successor was Louise Lincoln, a friend who took up the mantle after her death. The name has been associated with the Injustice League, Secret Society of Super-Villains and the Suicide Squad.[1]
References
Edit
Ad blocker interference detected!
Wikia is a free-to-use site that makes money from advertising. We have a modified experience for viewers using ad blockers

Wikia is not accessible if you've made further modifications. Remove the custom ad blocker rule(s) and the page will load as expected.