Cosplays
Edit
Background
Edit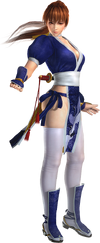 This character also appears in Ninja Gaiden.
Kasumi is a runaway shinobi and former member of the Mugen Tenshin Ninja Clan, who debuted in the first Dead or Alive back during the 1996 arcade release. One of the original eight characters, Kasumi became the main protagonist of the Dead or Alive series and is often viewed as the series mascot. She was the winner of the first Dead or Alive Tournament.
Her trademark outfit is a blue, side-tie dress with short puffy sleeves, white trim, her name (written in Japanese) stitched in gold on the back, and a light-colored phoenix pattern on the skirt, complete with stockings, low heeled sandals, blue & white leg guards and arm-guards. As well as this outfit - and variations of said outfit - Kasumi sports other shinobi costumes. She also has modern, casual clothes, and Japanese school uniforms, suited for average, everyday girls.[1]
References
Edit
Ad blocker interference detected!
Wikia is a free-to-use site that makes money from advertising. We have a modified experience for viewers using ad blockers

Wikia is not accessible if you've made further modifications. Remove the custom ad blocker rule(s) and the page will load as expected.