Crossplays
Edit
Background
Edit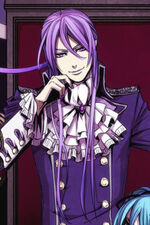 Kamui Gackpo (Camui Gakupo), is a Japanese VOCALOID developed and distributed by Internet Co., Ltd. as Gackpoid.
Gackpo has a samurai aesthetic: the VOCALOID is clad in a Jinbaori, a kind of kimono which was used as a battle surcoat, with parts of Japanese armor, and carries a katana which is named "Music katana, Miburi" (楽刀・美振 / Gakutou Miburi). The patterns on its blade make musical sounds when it is swung down.[1]
References
Edit
Ad blocker interference detected!
Wikia is a free-to-use site that makes money from advertising. We have a modified experience for viewers using ad blockers

Wikia is not accessible if you've made further modifications. Remove the custom ad blocker rule(s) and the page will load as expected.