Cosplays
Edit
Background
Edit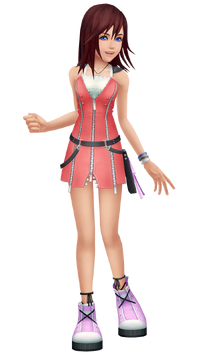 Kairi is the original persona of Naminé. Kairi was born in Radiant Garden and currently lives on Destiny Islands along with her two best friends, Sora and Riku.
Kairi is caring, kindhearted and brave. She is determined and courageous when someone she cares about is in danger, as she always puts herself in harm's way to help Sora when he's in trouble despite the dangers. Kairi's heart is said to be filled only with pure light and goodness, despite darkness and evil residing in almost every heart. Kairi's good heart filled with pure light helped lead Sora back to his true form when he was consumed by the Heartless, and led Sora and Riku back to Destiny Islands when they were trapped in the Realm of Darkness after their battle with Xemnas.[1]
References
Edit
Ad blocker interference detected!
Wikia is a free-to-use site that makes money from advertising. We have a modified experience for viewers using ad blockers

Wikia is not accessible if you've made further modifications. Remove the custom ad blocker rule(s) and the page will load as expected.