Cosplays
Edit
Background
Edit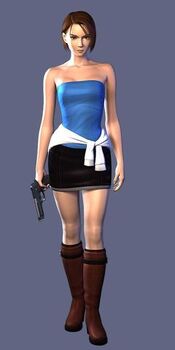 Jill Valentine is an American Special Operations Agent (SOA) of the Bioterrorism Security Assessment Alliance, of which she is a co-founder and one of the original eleven members, making her a respected and high ranking operative of the organization. Jill's father was French, and her mother was of Japanese migratory descent (referred to as a "Nikkei").
Numerous official documents, including her character file found in Resident Evil 5, highlight Jill's unrivalled ability to remain calm under extreme conditions, while the manual for the remake of the original Resident Evil says that her quick thinking has kept herself and her comrades alive on numerous occasions.
Her profile in Resident Evil 3 describes her as cheerful yet determined, with a strong sense of justice, while her involvement with S.T.A.R.S., a BioHazard Containment Unit and co-founding, high ranking role within the BSAA show her years of commitment to stopping bioterror and fighting for peace and the protection of innocents.[1]
References
Edit
Ad blocker interference detected!
Wikia is a free-to-use site that makes money from advertising. We have a modified experience for viewers using ad blockers

Wikia is not accessible if you've made further modifications. Remove the custom ad blocker rule(s) and the page will load as expected.