Crossplays
Edit
Background
Edit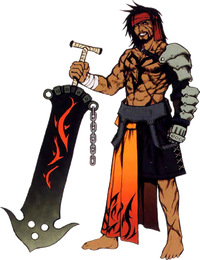 This character is from the Final Fantasy franchise.
Jecht is Tidus's father, was one of High Summoner Braska's legendary guardians, and a major blitzball star in his hometown. Jecht is a tall, muscular man, with a tendency to drink heavily, and wields a large black sword in battle.
Despite his numerous flaws, Jecht is a good man at heart. He criticizes Tidus in the hope of encouraging him to try harder and disprove him. Jecht does love Tidus, but struggles expressing it: a sentimental message to Tidus on a sphere is cut off with Jecht mumbling, "Remember, you're my son. And... well, uh... never mind. I'm no good at these things".[1]
References
Edit