Cosplays
Edit
Cosplay reference kit
Edit
Default skin from Heroes of the Storm
Master skin
Tempest Regalia
Winter Veil
Background
Edit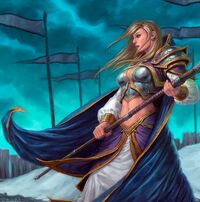 This character is from World of Warcraft.
Jaina Proudmoore is the founder and former Lady of Theramore Isle (as well as its only leader during its brief existence), the Alliance's major port in southern Kalimdor. After the destruction of Theramore, she took leadership of the Kirin Tor. She is the daughter of Grand Admiral Daelin Proudmoore, sister of Tandred Proudmoore and Derek Proudmoore, and the alleged half-sister of Finnall Goldensword. She is also the most powerful human sorceress on Azeroth.[1]
References
Edit
Ad blocker interference detected!
Wikia is a free-to-use site that makes money from advertising. We have a modified experience for viewers using ad blockers

Wikia is not accessible if you've made further modifications. Remove the custom ad blocker rule(s) and the page will load as expected.