Cosplays
Edit
Background
Edit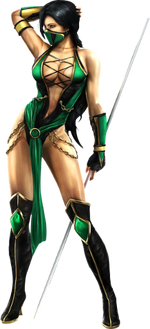 Jade is a childhood friend of Princess Kitana. While her motives were unclear, she served Shao Kahn alongside Kitana and Mileena as his personal assassin for most of her life. When Kitana finally turned against Shao Kahn, Jade was ordered to capture her for the Emperor. She ultimately chose to join her friend, and has since loyally assisted Kitana in her quest to free their native realm and restore its original beauty. Now residing in the freed Edenia, Jade is a General of the Edenian Army and continues to dutifully serve Kitana and her mother Sindel.[1]
References
Edit
Ad blocker interference detected!
Wikia is a free-to-use site that makes money from advertising. We have a modified experience for viewers using ad blockers

Wikia is not accessible if you've made further modifications. Remove the custom ad blocker rule(s) and the page will load as expected.