Cosplays
Edit
Background
Edit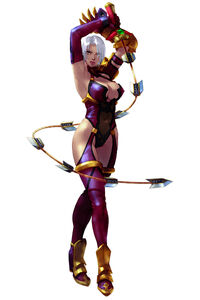 This character is from the Soulcalibur franchise.
The House of Valentine was once one of the most wealthy families in London. Isabella 'Ivy' Valentine had been raised with love by her parents. However, her father, Earl Valentine, was driven insane by his pursuit for what was called the "Key to Eternal Youth." By the time of his death, his efforts to search for immortality had drained his family's fortunes and left one of London's most distinguished families in ruins. As if to pursue her husband into death, the Countess fell ill and passed away soon after Earl Valentine's death. This left Ivy as the sole surviving member of the Valentine family.
Filled with rage and despair, Ivy vowed to avenge the death of her father by using all of her knowledge to destroy Soul Edge. Ivy realized she needed to create a weapon powerful enough to destroy Soul Edge.[1]
References
Edit
Ad blocker interference detected!
Wikia is a free-to-use site that makes money from advertising. We have a modified experience for viewers using ad blockers

Wikia is not accessible if you've made further modifications. Remove the custom ad blocker rule(s) and the page will load as expected.