Cosplays
Edit
Background
Edit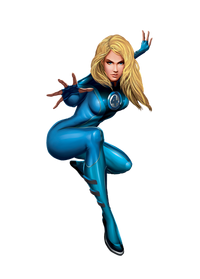 The Invisible Woman (Susan "Sue" Storm Richards), previously known as the Invisible Girl, is a fictional superheroine that appears in comic books published by Marvel Comics. She was the first female superhero created by Marvel in the Silver Age of Comics. Like the other founding members of the Fantastic Four, Sue received her powers after being exposed to a cosmic storm. Her primary power deals with light waves, allowing her to render herself and others invisible. She can also project powerful fields of invisible psionic energy which she uses for a variety of offensive and defensive effects. Sue plays a central role in the lives of her hot-headed brother Johnny Storm, her brilliant husband Reed Richards, her close friend Ben Grimm, and her children (Franklin and Valeria).[1]
References
Edit
Ad blocker interference detected!
Wikia is a free-to-use site that makes money from advertising. We have a modified experience for viewers using ad blockers

Wikia is not accessible if you've made further modifications. Remove the custom ad blocker rule(s) and the page will load as expected.