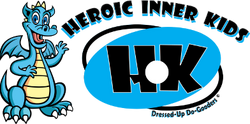 Heroic Inner Kids is a cosplay charity in Plano, Texas that was founded in October of 2014. They are called the "Dressed-Up Do-Gooders" and their mission is "To inspire those with challenges to realize their Inner Hero via education, outreach and advocate efforts." They work tirelessly to help local and national organizations via volunteer cosplay characters. They believe that everyone has an inner child that wants to be a hero and want to inspire that in others using the legends of superheroes, fairytales and other characters. Heroic Inner Kids is also highly inclusive of the cosplayers it works with and thus has scifi, princess, superhero, gaming, literary, and pop culture characters. They also work hand in hand with local non-profit cosplay costume clubs to encourage a supportive community in the North Texas area.
External links
Edit
Ad blocker interference detected!
Wikia is a free-to-use site that makes money from advertising. We have a modified experience for viewers using ad blockers

Wikia is not accessible if you've made further modifications. Remove the custom ad blocker rule(s) and the page will load as expected.