Cosplays
Edit
Background
Edit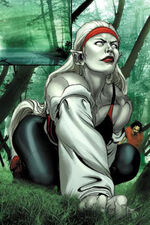 Hepzibah was born on the planet Tryl'sart, while under Shi'ar Imperial Rule. She had also spent some time in the prison on the planet Alsibar, where she met Corsair for the first time.
While Corsair was imprisoned by the authority of the then Shi'ar Emperor D'Ken, brother of Deathbird and Lilandra of the Royal House of Neramani, Hepzibah, with the help of several other prisoners who would later form the Starjammers (Raza Longknife, and Ch'od), aided Corsair in their mutual escape from Shi'ar prison. Corsair won the respect of the trio (becoming their leader) and eventually the heart of Hepzibah, becoming her lover.[1]
References
Edit
Ad blocker interference detected!
Wikia is a free-to-use site that makes money from advertising. We have a modified experience for viewers using ad blockers

Wikia is not accessible if you've made further modifications. Remove the custom ad blocker rule(s) and the page will load as expected.