Cosplays
Edit
Background
Edit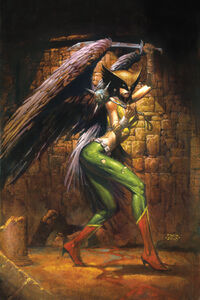 Hawkgirl is a legacy name used by female counterparts to the super-hero Hawkman. She wields a mace and uses Nth Metal technology to fly. Carter Hall's wife Shiera Sanders was the first to use the name during the Golden Age, although Katar Hol's wife Shayera Hol from the planet Thanagar used it during the Silver Age. Kendra Saunders, a reincarnation of Shiera, would also take the name.[1]
Centuries ago, Chay-Ara and her lover Prince Khufu were killed by Hath-Set with a knife forged from an alien metal called the nth metal. The properties of the metal and the strength of the duo's love created a bond between them, causing them to be reborn multiple times throughout the centuries.[2]
References
Edit
Ad blocker interference detected!
Wikia is a free-to-use site that makes money from advertising. We have a modified experience for viewers using ad blockers

Wikia is not accessible if you've made further modifications. Remove the custom ad blocker rule(s) and the page will load as expected.